As part of the promotion of the RepRap project we at IkMaak organise build party's in which we provide the materials, knowledge and experience to start printing in one weekend. During this time we build the machines, calibrate them and explain how to setup and use the software to make use of it.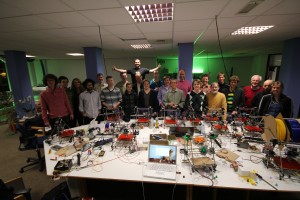 These courses are run by knowledgeable people from the community, that have a lot of experience with this machine, and can help out with a lot of the questions you could have when building your first RepRap.
These courses are mainly being organised in Maastricht, but we would like to do more courses in other hackerspaces, FabLabs, or other places, all over the world. If you have a group willing to do this course with us, please contact us for more information on how to make this happen. Its easier than you think 🙂
If you would like to take part in such an event, but dont know more willing people? Write us, and we will try to set up a place local to you. We will try to see if there are more local people interested, and try to make it work.
Also if you would like to see this on other schedules, for instance during the week, contact us, so we can try to help out.
Mail us: info at ikmaak dot nl
For an impression of one of our build party's, see this video: IkMaak.nl Build Party In Maastricht