Another Reprap Buildparty is set to be held at the GarageLab in Düsseldorf on 27-28 october!
A unique chance to build your own Reprap 3D printer in just one weekend.
You will get all the parts and guidance from some of the most experienced reprap builders in the community.
The machine being built is the Prusa i3, a recently developed but well-tested version of the popular Reprap type of 3D printers.
update: First pictures are here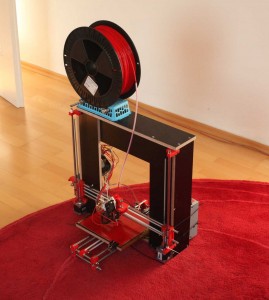 With the help of will build the machine on the first day of the event and finish it on the morning of the second day. After that we will look into the workings of the machine, and how to operate the software.
It is possible and even recommended to come as a team of two or more for extra fun. Josef Prusa, Kliment Yanev, Joachim Glauche, Ruben Lubbes and other community members will be there to help you.
The course is given in German/English, but Dutch speaking community members are available.
More information is available in German at the infopage of the GarageLab
Most places are taken, but it is still possible to join! Registration is at verein (at) garage-lab (dot) de
Also, if you are looking for another date, location, or other request, this can be taken into account, just mail us at info (at) ikmaak (dot) nl.
Workshop data:
Time: 27th and 28th of October 2012.
Location: GarageLab
Bilker Allee 217
40215 Düsseldorf
Deutschland
Price: 850€ per printer. 1 or 2 builders per machine.
Included in the course price are all the parts as well as some plastic print material. The electronics, hotend, and cable terminations will be done for you in advance. Food and drinks are included for up to two participants.
Required tools:
Laptop
Extension cord
Set of hexagonal keys (allen keys) including small sizes
Screwdriver set
Wrenches in sizes 13 (ideally two pieces), 7 and 5.5
Electronics pliers set (at least needle nose and side cutters)
Tweezers
8mm round file
Note that we have all these tools available onsite, but not enough for everyone. Please bring your own set of tools if at all possible.
Photos of past build events are available at http://ikmaak.nl