There is more info from SeeedStudio that the BeagleBone Green will be orderable from the 12th of August, and the price will be $39. That is a good price point if you ask me, and I hope there will be a lot of takers for it, so the Beagleboard system will grow and improve.
There also is a BBG Seeed Wikipage.
It seems on the pictures on the Seeed Promo Page that the RTC has been removed. Disappointing, but easy to work around.
The I2C hub seems to be necessary to most projects, if you'd want to avoid a full cape.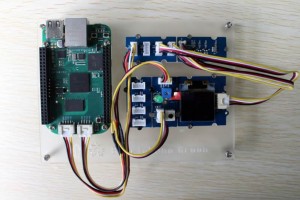 There is a list of supported Grove modules on the promo page, and also a all of modules from the Grove Starter Kit for Arduino are supported:
From the Starter Kit:
Grove – LCD RGB Backlight
Grove – Relay
Grove – Buzzer
Grove – Sound Sensor
Grove – Touch Sensor
Grove – Rotary Angle Sensor
Grove – Temperature Sensor
Grove – LED
Grove – Light Sensor
Grove – Button
Additional supported modules:
Grove – 3-Axis Digital Gyro
Grove – 3-Axis Digital Accelerometer 1,5g also: 16g 400g
Grove – 3-Axis Digital Compass
Grove – IMU 10DOF
Grove – Digital Light
Grove – Temperature & Humidity Pro
Grove – Barometer
Grove – Finger-clip Heart Rate
Grove – GPS
Grove – IR Distance Interrupter
More are being worked on. Also kits are in preparation to get you setup with a complete kit to start experimenting.
About BeagleBone compatibility: there is a new logo infopage on the Beagleboard.org site, explaining the new endorsement level: "BeagleBoard Compatible". From the info: "The product bearing the BeagleBoard Compatible Logo has been tested by BeagleBoard.org and has been determined to be BeagleBoard Compatible. […] General support for this board is available from the BeagleBoard.org community. All hardware support for this product is the responsibility of the supplier. Return merchandise authorization support is provided by the supplier and access to this is provided by the supplier via its website."
This means the BBG is the first to be on this "looser" rules that allow for hardware design changes, while still using the BeagleBone name. This is a great way to add more resources to the boards design, and the BBG is the first example.
More may follow, like the BeagleCore (Warning: annoying autoplay video), a project to make the core of the BB separately available for industrial use, much like the RaspberryPi compute module. It seems to be not reaching its goal (it runs till 7th of August, just over 10% with 3 days to go) but it could be this is just because it is aimed at the wrong audience. The board seems to be more suited to industrial designs, a hobbyist would most likely not be in the position to get this board in use without just using the BaseBoard, which makes it into a normal BBB. If you like the idea, pledge fast!
Well, for now this is all the info I got, more to follow once the board arrives 🙂